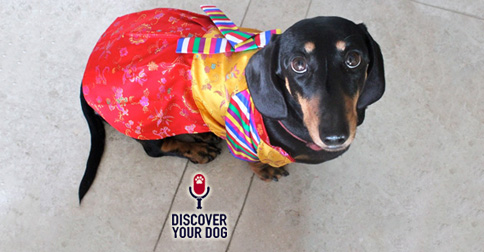 Halloween presents unique challenges to dog owners.
Today, discover some specific things you should be aware of to help your dog have a good holiday.
In this episode, you will learn some specific things you can work on with your dog to have a smooth Halloween.
Show Highlights
Welcome Leslie as today's co-host!
Leslie loves to dress up her dogs
Leslie has a shih-tzu named Monkey
Things to be aware of it you are taking your dog trick or treating or walking the streets during the busy night:

Your dog could have some anxiety – especially with others who are wearing masks
Ep 092 – how to handle some things that startle your dog
Kids and people entering their yard, doorbell constantly ringing can cause huge stressors
Ep 067 – revisit this episode if you have to hold your dog when you answer the door

Dogs who bark a lot:

If out on a walk just pull the leash tight and ignore their behavior and move past what distraction
Great time to work on desensitizing your dog to situations with large crowds
Great time to get your involved social situations
Be mindful of your dogs triggers – door bells, loud voices, etc.

Remember it's night time:

A lot of time for trick or treaters it is past their normal bed time which can lead them to be more anxious or vocal

Candy:

Be careful! There are some that are very dangerous for dogs – Ep 023
Be mindful of chocolate – 1 lb of chocolate for every 10 lbs of dogs can kill your dog
Be mindful of sugar-free candy as it contains Xylitol as it is poisonous for your dogs
Ep 052 to work on the DROP IT command which is very important for situations especially like this
Homework
Send us a picture of your dog dressed up for Halloween, any occasion or if they dress up on the regular!
Send photos to: trainer@familydogfusion.com
Leslie and Devin will be judging and picking the best dressed dog which will be used as the cover for the November newsletter
Photos will be posted on the FB page
You will have until the 2nd week of November to submit photos
You will know who won when you get the November newsletter
You can sign up at familydogfusion.com/register to receive the newsletter
Take Our Survey
Give us your input on training programs from FamilyDogFusion.
Click to Take Our Survey
Call to Action
Go to FamilyDogFusion.com/insurance to check out Healthy Paws Pet Insurance
Get In Touch
Check out our show page in iTunes to leave comments and subscribe or send us a message.
Dog Training Resources
Dog Training Tips and Postulates