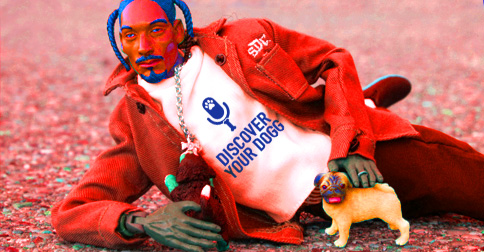 Some behaviors, you NEVER want your dog to do. Other behaviors just need to stop on command.
Today, discover the differences between these types of behaviors, and how to address each one.
In this episode, you'll learn to teach your dog that there is a right time and right place for everything.
Show Highlights
Postulate: If there is a behavior you are okay with and you just want your dog to stop doing it when told, correct her with a word or a phrase then immediately praise her for doing what you asked: Stopping that behavior.
This shows your dog that it was okay to do that thing, just stop doing it on command.
The difference is that after a correction for a behavior you don't want, you say "NO," then give ZERO attention to your dog immediately after the correction.
Examples of behavior you might be okay with, that you want to stop on command include:

Being on the furniture
Barking when someone knocks
Wrestling with other dogs
Running loose
Giving up a toy

You also have to decide for yourself which behaviors are okay in every given situation.
If you are being inconsistent when you let your dog do something, it is very difficult for her to know when it's okay to do a behavior and when it's not.
Bennie also talks about what to do if your dog does not stop doing a behavior the first time you give the corrective word or phrase.
Homework
An exercise designed to teach you the "DROP-IT" command.
Call to Action
Go to FamilyDogFusion.com/insurance to check out Healthy Paws Pet Insurance
Get In Touch
Check out our show page in iTunes to leave comments and subscribe or send us a message.
Dog Training Resources
Dog Training Tips and Postulates