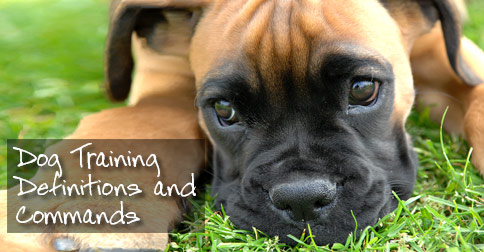 To make the most out of the dog training programs available on this website, here is a list of definitions for you to reference and understand. I use these terms constantly in my training and the various guides on this site.
Definitions of Dog Training Terms
Obedience: The willingness to obey.
Praise: Attention for a behavior when your dog has made a choice. In order to teach your dog, you must give positive attention when she has made the choice you want her to make. This is the only way you are teaching and training your dog to be obedient.
Motivation: Anything, positive, you use to create that your dog pays attention to you then makes a choice. Anything that is overused as a motivation creates an expectation from your dog.
Correction: Anything negative that you use to make your dog stop doing what she is doing and pay attention to you. If you overuse a correction, it creates fear in your dog.
Control: Control is all about confidence. It is understanding you are confident on how to handle most situations. Most times people (and dogs) do not realize that they are in control. Control can be a conscious or unconscious decision.
Dominance: Dominance is about creating trust, loyalty, and love. In order for a dog to be fully obedient, she must trust you in every situation.
Body Language:
This is the
number one
way a dog learns from us. Your dog will pick-up on your body language before they pick-up on
any other type of communication
you use. This is also why it is a good idea to use hand signals when training.
Voice Tone: This is the second most important way a dog learns. A dog can pick-up the most subtle changes in your voice that will let her know if you are serious or not.
Specific Dog-Training Commands
Heel: Walk at my left side and sit when I stop.
The sign is a swipe of your left hand at your side as you start walking.
Come: Come to me and sit.
The sign is bringing your hand from in front of you to your chest.
Sit: Put your butt to the ground.
The sign is a flat palm facing up and bringing it from your waist level up.
Down: Lie down all the way on the ground.
The sign is a flat palm facing your dog.
Place: Go to a mat and lie down, touching the mat.
The sign is a point to the mat.
No: "Stop doing what you are doing and pay attention to me."
All-Done: Your dog is finished with the last command you gave.
Come-On, Let's Go, Let's Walk (Or any derivation you may be using): "I'm Moving." Remember, this command has nothing to do with your dog.