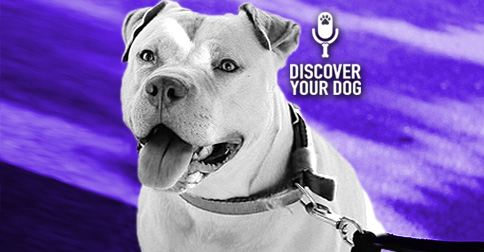 Anxiety can potentially become a very serious situation with your dog and her interactions.
Discover useful ways to help your dog deal with anxiety and feel comfortable in social situations.   In this episode, learn how to raise your dog's confidence and trust to help your dog with anxiety.
Show Highlights
Pay attention to your dogs behaviors – if they are running to the door and barking then hiding behind you this can be considered skittish behavior.
You must handle this with your dog when they are young and most likely with a behaviorist. If skittish behavior continues, at some point, your dog will become aggressive and may bite.
Owners reinforce this anxious behavior more often than not.
This is a common behavior with a working dog such as a collie.
When you try to calm the dog down after they have shown skittish behavior (or is very freaked-out in the moment) you are actually reinforcing her behavior.
Dogs generally reach adulthood between 3-5 years of age.

Around this time, their natural instinct kicks in and they believe they need to take a new role in the household hierarchy.
Your dog believes she needs to be protective, and if you have reinforced her skittish or anxious behaviors then this would be about the time they could potentially bite.

While Bennie was at the brewery, he noticed a puppy that was being forced to be introduced to a baby. The puppy was yawning and trying to run away during this interaction, showing how anxious it was.

A few minutes later, the baby was picked up and the family left and the puppy was outside enjoying itself.
The owners of the puppy didn't even realize their dog was stressing out, nor the fact that by holding the puppy in place to see the baby, they were reinforcing (through physical touch) the puppy's anxious behavior.
Homework
Be aware of when your dog is in stressful situations
Things you can do to raise your dogs confidence
Create a safe place for your dog to go
Desensitize your dog to things that give them anxiety – socialize your dog outside of your home as they will not feel the need to be as protective over you or their home
The Place command or any kind of basic training helps your dog to learn to trust you and creates better communication between you and your dog
Refresh your memory on the Place Command – Episode 049 – review the homework especially
Doing informal commands with your dog is important as well – see Episode 031 – the difference between causal and formal commands
Have a safe spot for your dog to go: Bennie has dog beds all over his house and he has one in a cubby area that his dogs go to during high stress situations
If you notice that your dog is in the cubby hole or in their safe spot, make sure to encourage that behavior during high stress and non-stressful situations
Have something distracting for your dogs – play music for them that may drown the sounds of other things.
To redirect their behavior and nervousness, give them a chew toy that will take them time to get through
Casual commands are about taking a break from the stressful situation and feeling relaxed in their safe area
Always remember to be conscious of their behavior
Call to Action
Go to FamilyDogFusion.com/insurance to check out Healthy Paws Pet Insurance
Get In Touch
Check out our show page in iTunes to leave comments and subscribe or send us a message.
Dog Training Resources
Dog Training Tips and Postulates