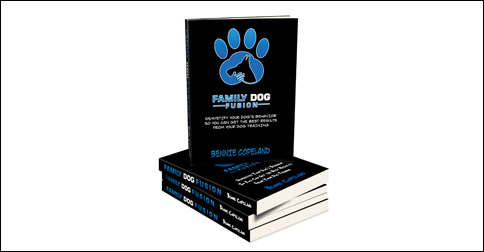 The book you dog lovers have been waiting for!
Today, discover a book that could change you (and your dog's) life forever.
In this episode, Bennie and Leslie reveal the details about Bennie's book, and let everyone know how to buy it.
Show Highlights
Procurement Episode
Releasing the book on November 15th
Bennie started this book almost 10 years ago—back in 2007
Bennie bought a house faster than he completed this book
Completing this book pushed Bennie WAY outside his comfort zone
Family Dog Fusion the Book by Bennie Copeland who has been training since 2001
Bennie reads an excerpt from his book from Chapter 2 – Demystifying
The goal is to being my dog into the family and to diminish frustration
The biggest change that Devin was a part of was that anything spoken about needs to be done in the affirmative – thanks to Devin!
The tag line for Family Dog Fusion and the book is from Devin as well!
Ep 002 Specificity – being specific with the things you say and what you say to your dog.
Consistency is imperative otherwise it can be misconstrued as attention
Keep in mind that when owners take the leader / Alpha role – our dogs are allowed and comfortable to be the dog and only the dog in the hierarchy
This is a book that should go into the Self Help section – not the dog training section
Homework
If you want a hard copy you can order 1 copy or 100 hard copies as they are printed on demand!
Links are provided on the website
Available on Kindle and Amazon.com as well
$14.97 for the book – Super cheap!
Take Our Survey
Give us your input on training programs from FamilyDogFusion.
Click to Take Our Survey
Call to Action
Get In Touch
Check out our show page in iTunes to leave comments and subscribe or send us a message.
Dog Training Resources
Dog Training Tips and Postulates