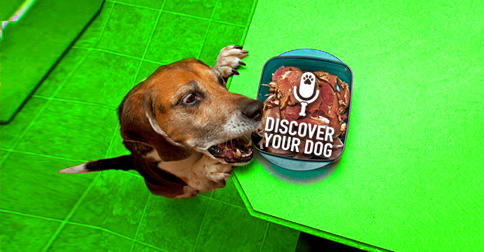 Human food is a big temptation for your dog.
Discover how to respond when your dog decides to counter surf for your holiday ham.
In this episode, you'll learn how to take the problem of counter surfing and turn it into a solution. 
Show Highlights
When you want to understand how to get what you want from your dog – what that moment looks like: " Gahh I wish my dog would…!"
We want people to notice that moment so they can use it as a red flag and state it in the affirmative.
Then think about it in those terms, then teach your dog how you want it to behave.
It is important to keep your dog on all fours not only because it can be a nuisance, but also because it can be unsafe to her.
Reference Ep 023 regarding common household items that could be hazardous to your dog such as chocolate, alcohol, certain nuts, xylitol, etc.
Bennie references an experience with his dogs whom he spent a lot of time with training who were cognizant of the "place" command.
The place command allowed him to tell his dog to go to her place—her designated area—and she was not allowed to leave unless told to do so. This is similar to a crate situation.
Homework
The Goal: Teach your dog to stay on all fours (in the affirmative).
When your dog is in a new situation with a lot of new people in the room or a lot of food on the counter:

Put the leash on your dog, because you need to stop her from doing what she's doing without touching her.
Reference temptation Ep 051 or Ep 039 as we speak about how it is important that you are looking for what you want your dog to do and to make the correction at a very specific moment.
If the dog jumps on the counter, correct in the moment so your dog is off the counter and you state the word "no".
Use the 10-1 rule.
Continue to use whatever your dog's temptation with the 10-1 rule. Tapping on the counter is a good starting point for this.
Use this same routine with the 10-1 rule for high temptation items such as food on the counter and items on a coffee table or furniture that is more at the dog's height that you do not want them near.
This exercise takes commitment and repetition
Call to Action
Go to FamilyDogFusion.com/insurance to check out Healthy Paws Pet Insurance
Get In Touch
Check out our show page in iTunes to leave comments and subscribe or send us a message.
Dog Training Resources
Dog Training Tips and Postulates