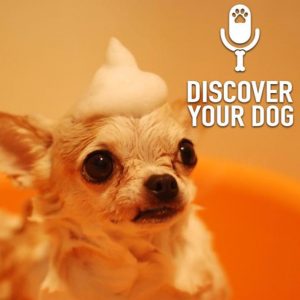 In Episode 202 of Discover Your Dog, Bennie shares an article from petfinder.com all about dog bathing and tells us what worked well from him after he recently gave Beans a bath.
Show Highlights
Dogs are loving and adventurous!
With that comes fun in the mud, swimming in the lake and, of course, rubbing in the grass.
We don't always want the outdoors coming into our homes.
So when the fun in the sun is over, the bathing of your four legged pooch must commence!
Is there a right or wrong way to bathe your dog?
What if your dog is terrified of a bath?
Should you take your dog to a professional for a bath?
Let's get ready to soak up some answers!
Also, help Bennie reach 10,000 downloads per month!
Please share our podcast with everyone you know!
Take Our Survey
Give us your input on training programs from FamilyDogFusion.
Click to Take Our Survey
Call to Action
Get In Touch
Check out our show page in iTunes to leave comments and subscribe or send us a message.
Dog Training Resources
Dog Training Tips and Postulates