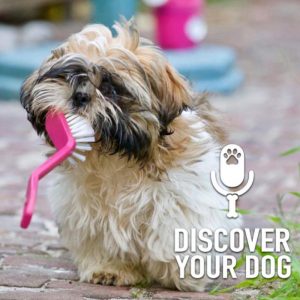 Episode 197 of Discover Your Dog is all about why dogs chew on things.
Show Highlights
Most of us are under the misconception that only puppies chew on everything.
However, according to science – this is not true!
Even well adjusted dogs may put their K9's into something of yours.
Bennie will discuss an article today written by Tereza Pularove.
He will breakdown why your dog chews on something.
What our favorite four legged friends use to investigate.
How important it is that you teach your dog what is acceptable to chew on and what is not.
ALSO! Help Bennie reach 10,000 downloads per month.
Please SHARE our podcast with your jogging partner, your electrician, EVERBODY!
Take Our Survey
Give us your input on training programs from FamilyDogFusion.
Click to Take Our Survey
Call to Action
Get In Touch
Check out our show page in iTunes to leave comments and subscribe or send us a message.
Dog Training Resources
Dog Training Tips and Postulates