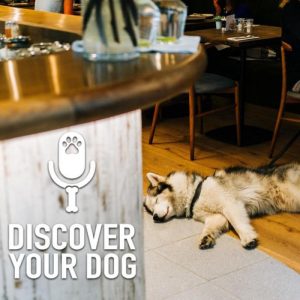 In Episode 178 of Discover Your Dog, Bennie and Leslie discuss 15 rules of etiquette for being responsible with your dog in public.
Show Highlights
Do you remember when your four legged friend was unable to join you at your favorite coffee shop?
It has been wonderful to see more public venues allow dogs in their establishments.
However, there is still etiquette you must understand when having your pooch join you.
Let's jump into Bennie's rules on etiquette in public venues:

1         Make sure you and your dog have basic good manners.
2         Keep your dog on the leash and the leash in control at all times.
3         Teach your dog to be quiet and still.
4         When greeting other dogs, it should be noiseless, gentle, and positive.
5         Make sure you dog is healthy and up to date on all vaccines, immunizations, and medications.
6         Never bring a dog in heat into a public place.  Especially a place that allows other dogs.
7         Clean up your mess.
8         Bring snacks and water for your own dog.
9         If you are to go outside of a dog designated area, ask permission.
10       Always ask permission before letting your dog greet another dog.  The same goes for you.  Always ask permission before you greet or pet another person's dog.
11       Not everyone loves dogs.  Not everyone loves YOUR dog.  Be respectful of that fact.
12       Not every dog gets along with other dogs (or people).  Do not assume a dog is nice because it is in a public place.
13       If your dog misbehaves, remove it immediately.
14       If your dog hurts another dog, a person, or damages property then take responsibility.
15       If you are asked to leave…LEAVE.
Take Our Survey
Give us your input on training programs from FamilyDogFusion.
Click to Take Our Survey
Call to Action
Get In Touch
Check out our show page in iTunes to leave comments and subscribe or send us a message.
Dog Training Resources
Dog Training Tips and Postulates