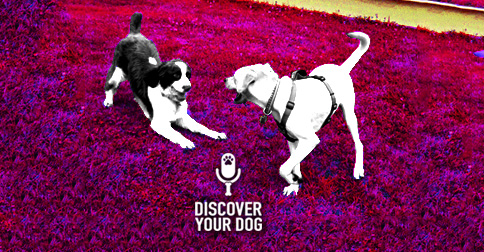 Proper protocols for puppy play dates.
Discover how to respond to problematic interactions between dogs.
In this episode, we learn when a dog is greeting another dog in a good way and in a bad way. 
Show Highlights
Dogs are who they are – they are perfect, it is our job as owners to create a situation where our dog can thrive and there are things we need to be aware of during greeting situations.
Be lenient when the dogs are greeting AND be mindful.
Do not bring toys to the dog park, as it is intended for them to be socializing.
Three main situations when your dog will greet other dogs
On-leash greetings (walking your dog, etc.):

You are on a casual walk and you want to greet some else's dog that they have meet before.
They will get very relaxed in their front shoulders
Dogs greet by butt sniffing because they have glands that secrete specific smells – it is their fingerprint
If they want to play they will bow all the way down and have a big butt wave – showing a greeting that they want to play
Remember the leash is used as a conductor of your energy to your dog
Tension from you creates tension to with your dog
If you are tense and start immediately pulling your dog away that could make them think they need to immediately protect you and could become aggressive towards other dogs during a greeting
If you are tense walk away from the greeting until your dog focuses on you then once they are focused on you, allow them to re-greet and try it again
You must be relaxed
If it's a dog that they haven't greeted and anything happens get them away from the situation and get their attention on you
If your dog is an aggressive greeter – the human and the dog must together to overcome this issue

Greeting at your home.

Your home is your dogs territory so anytime you are brining a new dog into your home and you do not know the other dog's personality and that dog shows aggression your dog is going to show aggression as well
If you are bringing a new dog to your home have them meet on neutral ground away from your home that way it is not a big deal to them at that moment
If there is a protective greeting or your dog becomes possessive in the home take all the toys up because it can help decrease the territory issue
Try not to give more attention to one dog or another
Allow the dogs to interact with one another and see how they are doing

Off-leash greetings (at the dog park, etc.)

Multiple dogs means multiple personalities
If it is your first time in the off leash park – bring your dog in the park with the leash on and keep the leash on them
If you do go grab your dog and remove him from a situation other dogs will follow and you are creating a sign of weakness for your dog
Correcting your dog can possibly create an aggressive situation because other dogs will follow
Look out for body languages when your dog is meeting and greeting all the other dogs (EP028)
Initial greetings like big butt sniff, he may also bump his back end at another dog or turn his back at another dog, circling toward each other – these are positive signs
Circling away from each other in a large circle – this is not a positive sign – you will probably want to separate this by even just walking in between them
You must remain calm at all times when you are handling your dog or interacting with him in this new situation
When dogs play – they are practicing for real life situations
When one dog goes after another dogs back leg or for the neck or underneath area they are practicing for those real life fighting situations
Dogs create their own style of "defense" and they use it in their play as well.
Homework
Learning what your dog's signs are when in a positive greeting situation and in a negative greeting situation.
Call to Action
Go to FamilyDogFusion.com/insurance to check out Healthy Paws Pet Insurance
Get In Touch
Check out our show page in iTunes to leave comments and subscribe or send us a message.
Dog Training Resources
Dog Training Tips and Postulates