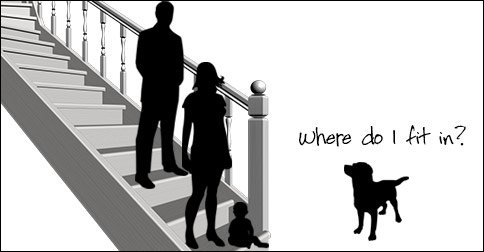 How does the hierarchy work and why is it so important to dogs? Now remember, these are my observations, not research on the subject. I have learned this throughout training dogs and people, and my conclusions have been reinforced over and over.
This is also over the years of training dogs at all levels of intelligence. Training with different levels of intelligence has really reinforced what I have learned because I see, especially in multi-dog families, that it is very important to a dog to understand where she belongs to be happy. Otherwise, the dog is testing the boundary all the time and this causes for a stressful relationship with an owner.
This is also why I get the calls and the clients I do. If it was not for this misunderstanding, I would not have a job! So, with that, I will explain it the best I know how. This is one of the most complicated things to try to explain and yet I understand it very well.
Dogs live in a hierarchy. There is no 'equal' in the dog world. One time a vet said to me: Too bad there was not an Abraham Lincoln in the dog world that said, 'All Dogs are created Equal.'
The reason is because dogs are not created equal, and because they can't talk. With this reasoning, a family of four with a dog there is a #1, 2, 3, 4, & 5 sequence in the home to the dog. There is not a 1, 1, 2, 2 & 3 as we might believe. Humans tend to think that all people are equal until proven or represented otherwise.
In a dog's mind, you are either above her or below her—never equal to her.
Why Dogs Test Boundaries
Once I understood this, I realized how people are so inconsistent that it can be very confusing for a dog. Not in the sense that you have to do the exact same thing the exact same way every day. In the way you keep the same rules and have some sort of consistency in your life. If you don't, then your dog will test that boundary every time.
Some dogs are aggressive when they test the boundaries, and these dogs are the ones for which I get the desperate calls. Some dogs are very resourceful and even cute about testing the boundary and these are the dogs we say are spoiled. An owner will say, "It's just so cute—I can't punish her for that."
Being spoiled and running the house, or family, is two different things in my mind. The spoiled, or cute, dog might warrant a call to a trainer, but for the most part I just hear about the results of not training. Everything from giving the dog away to the owner just giving up and letting the dog continue to do the behavior. I did that with my Yorkshire Terrier. We never got him potty trained, and for thirteen years he pooped and peed in our house.
If I knew then what I know now, his life would have been so different.
Who is the Dominant?
Because of this inequality, we have to be aware of the things we do that make the dog feel like she is higher in the hierarchy and we have to take the dominant role. Do we have to take the dominant role all the time? No. Once we have established dominance, we should take on a submissive every now and then throughout our lives with our dogs.
Once a dog has established its place in the hierarchy, you will see her take both dominant and submissive roles with other dogs, and with her human pack as well. For example, I will hear people say that they heard or understood that you should never let a dog go in or out of a door first.
When establishing the hierarchy this may be important, but in the long-run it isn't. In my home, the hierarchy is understood, and every now and then my dogs go out the door in front of me. I can do this because there is no question as to who the dominant is in my home.
One question I ask a new client with multiple dogs is, "Who is the dominant?" Ninety percent of the time the owner will tell me which dog they think is the dominant. My response is, "Then you have a problem here, you should always be the dominant." Most times they understand. Sometimes they don't, and I realize quickly why they are having issues.
If you are not willing to establish that you are the dominant in your hierarchy, just remember, your dog will always test the boundaries. This is not a bad or good thing; it is just a fact and something I have observed and learned over the years.
Environment Creates the Hierarchy
So how and why does the hierarchy work? The way I understand it is like this: If you create an environment of structure, control, and dominance; you are creating rules, confidence, and trust. These are the basic necessities to being at the top of the hierarchy. If any of these falter in a way they can be questioned by your dog, then she will view you as lower in the hierarchy. Or, your dog will continue to test for a higher rank.
POSTULATE: Structure is rules. By creating and abiding by these rules you will be doing the same things and always expecting the same results. Control is having knowledge, understanding and confidence. Dominance is creating trust.
If you establish consistent rules, abide by those rules consistently and confidently, then you are creating it so that your dog will trust you in any situation. Once this trust has been established, then you will be viewed by your dog as the dominant.
What dominance is not about is being the biggest, the meanest, or the strongest.
Typically, a dog owner is only weak in one or two of these areas:
Confidence
Consistency
Knowledge
Understanding
Building trust
During training, this weak area is what I concentrate on. An owner may have tons of structure, yet have little to no control. If this is the case, their dog will continue to test the boundary and test for a higher level in the hierarchy.
There are many ways to help you see where your weaknesses in the hierarchy. Below, I will describe a scenario, state a few observations you may have understood or may not have noticed, and give an explanation to help you to recognize in which area you may be lacking.
Scenario
You arrive home to discover that your dog has destroyed the remote control to your TV. When you notice the remote, you get very upset and turn to find your dog cringing on the floor near you.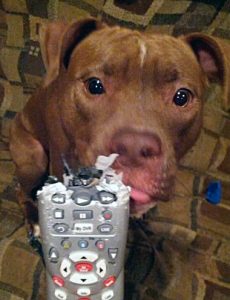 You are not sure when she did it so, you scold her severely, showing her the remote control while you do so. You then put angrily her in her crate.
Several hours later you have to let her out to feed her and to go to the bathroom, and you are still angry because you have not been able to watch your favorite shows. In a huff, you feed her and take her for a walk, not really paying attention to what she is doing or even aware if she has done her business.
When you arrive home, you take her off the leash and you do not put her back into her crate. Throughout the evening, you do not pay attention to your dog and the few times you do, she cringes. Your thought is, "See, she knows what she did was wrong."
Later that night, as you are preparing for bed, you notice a spot on your pillow. As you observe closer, you see and smell that she has peed on your pillow on your bed! Again, now even more enraged, you scream at her (maybe even spank her) and rub her nose into the pillow. Then you angrily put her into her crate. All the time you are wondering why she did this. Why would she pee on your bed when she has never done anything like this before now? As a far as you knew, she was totally potty trained and never even peed in the house.
Observations
There are many things going on  that you are communicating to your dog in this scenario that you may not realize. I will go through them in order.
First, upon finding the destroyed remote, your energy and body language began giving off a signal that your dog recognizes as very negative. She has learned that when you behave this way, something bad is going to happen and usually to her.
She cringes, having no idea why you are upset because the remote served no purpose to her other than passing the time hours ago. It was also attractive to her because it was strong with your scent and it was plastic, one of the materials that are in many of the toys you give her.
When you are scolding her and showing her the remote, you are sending a mixed signal. If you grab her to put her into her crate, you are sending an even more confusing message by touching her, because to her, a touch is a reward. Yes, the yelling is negative and can be a correction for a behavior, but that behavior has to be caught within just a few seconds (or even better, at the time) of the incident to be effective.
Remember, a true correction is  when you make your dog stop doing what she is doing and pay attention to you. You cannot do this if you did not catch her. If you did not catch her, ultimately it is your fault for giving her too much freedom too early.
Next, you take her out of the crate. When you take her out, you are still angry and hanging on to the energy and the body language which, again, she has learned means trouble. Now you have made coming out of the crate a negative thing as well as you coming home.
She has no idea how to act around you and is not sure of what you want, even when you take her outside to potty. You are not communicating the norm—to use the bathroom—you are confusing her.
Here is a major inconsistency that is communicated to most dogs. They do not know why you are angry because you have not been clear and you did not catch her in the act. You just reacted to something that happened possibly hours ago.
This inconsistency creates distrust in your dog and she now has to decide whether or not she needs to be higher in the hierarchy to create structure and consistency. Then, because you are still angry, you leave her (again) on her own.
During this time on her own, she feels the need to communicate to you that she is willing to take a higher role in your hierarchy. One way for her to do this is to mark her sleeping area and to mark the areas of the others in the pack to show her dominance. There are many other ways, this is just one example.
Next, by again taking your dog to the scene of the unwanted behavior, you are sending a very mixed message. You are not correcting for a behavior she just did, you are giving attention to what she did and you are touching her. You are also still mad and she does not understand why. As far as she is concerned, you should be happy she is willing to take on a dominant role since you are not. This had nothing to do with the her potty training—this was all about dominance.
What she did or did not do outside is irrelevant. Her reaction to your behavior is a very common and misread action done by dogs. Your dog has to know her place in your pack. If you do not create rules (structure) and you are not consistent with those rules, she will think she needs to take the dominating role in your home.
All of the actions from you (in this scenario) are not inappropriate actions (although I do not condone spanking, I know it still goes on); they are just timed very badly. If you were to react in the same way, catching your dog in the act, she would have stopped and cringed. That would have been the best timing. When she is cringing, she is trying to figure out what just happened. At the point a dog cringes is when she is learning, not feeling bad like we think.
As a matter of fact, a dog cannot feel bad for destroying property. This is only a human emotion requiring analytical thought. I did not say a dog cannot feel bad, I said a dog cannot feel bad for destroying property. If they could, they would remember what they had done in the past and know why they were being corrected or punished.
A dog only lives and thinks in the present. Many, many, times an owner of a rescued dog tells me they know the dog was beat in the past because of how she cringes for whatever reason. Eighty-five percent of the time (or more) the dog was not mistreated. She just learned when she cringed she would get attention, so she does it all of the time. This is a very touchy subject, especially when it comes to rescue people and organizations.