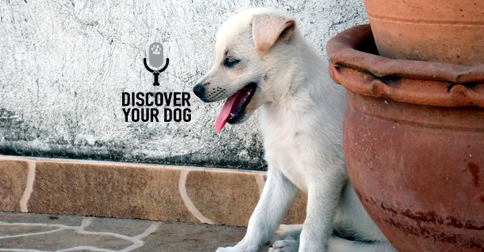 This is where it got started. In this brainstorming session, Bennie discusses the root of his training and Devin asks great questions to discover what this show is going to be all about.
This inaugural Episode 000 of Discover Your Dog isn't really an episode at all.
In fact, it was never intended for broadcast! It's two guys…business partners and friends…talking back and forth about what this show is to become.
A Peak Behind the Curtain
Much of the discussion reflects the two of us getting on the same page with our vision and the message that we want to convey.
Devin seeks clarity about Bennie's training style, ideal clientele, and overall attitude.
Bennie exercises patience with Devin's ignorance of dog training, helping him discover the differences between reactive and analytical behavior.
We discuss the show title (which we didn't even decide until after we recorded three episodes!), content ideas, artwork, branding, and other logistical issues.
Oh, and we also discuss the audience.
Audience. Audience. Audience.
This was (actually) the main purpose of the conversation: to get Devin understanding Bennie's approach to training dogs, and from that to define the audience we want to connect with.
**One takeaway from this episode is that Bennie reveals the true currency for dogs in general—what it is that they crave the MOST and how it affects your dog training.
Please go to our show's page on iTunes and subscribe, leave a review, and a rating. You can also use our Contact page or send us a message on Twitter.
Check out our show page in iTunes to leave comments and subscribe.